What's the best Kid's Toothpaste?
Last time we covered the topic of "Best Toothbrushes for Kids" so now Drs. Rubin and Sentelle answer questions regarding what to look for in selecting a kid's toothpaste.
"Best Toothpaste for Kids"
Now let's talk about toothpaste… what should parents look for?
The biggest thing to look for in buying toothpaste is the ADA Seal of Acceptance. If you see that logo, you know it's going to work!
While there is no single best toothpaste out there, the most important notation of good toothpaste is the ADA (American Dental Association) recommendation. Flavor does not impact the effectiveness of toothpaste so pick whatever flavor pleases you and your child. Today there's every flavor known to man, from No Flavor, to Chocolate Cake, to Cookie Dough… it's really a matter of preference and what your child likes. The smaller the child the pickier they tend to be!
As long as the toothpaste has the ADA symbol it will always have a small amount of fluoride in it. For small children, a very small amount of toothpaste about the size of a rice grain, is recommended. Once your child gets a little older, and the adult teeth start to come in, then transition up to pea-sized dollops on the toothbrush.
Always keep toothpaste out of the reach of small children! You don't want them eating it.
Fun Facts about Toothpaste
The basic idea behind toothpaste is to have gentle abrasives which help remove surface stains by gently polishing them away with the aid of a toothbrush. However, early variations of toothpaste consisted of ground iris flowers, sand, pulverized oyster shells or even brick … which weren't so gentle! Thankfully, in the 1800's tooth powders transitioned to using less harsh ingredients, like baking soda and salt. Today, toothpaste also contains antibacterial agents to aid in reducing bacteria in the mouth, thus preventing bad breath (halitosis). The variety of toothpaste options can be overwhelming! We have everything from all-natural toothpaste for sensitive teeth, to whitening toothpaste, and any number of flavored options for children. The one ingredient they have in common is fluoride, which aids in strengthening the enamel of your teeth. Fluoride has been added to toothpaste since the late 1800's and studies have shown it has significantly reduced the rate of tooth decay over the years. Though most public water supplies are fluoridated, the water does not adequately provide protection against cavities, therefore, the need for fluoridated toothpaste still exists!
Taking care of your child's smile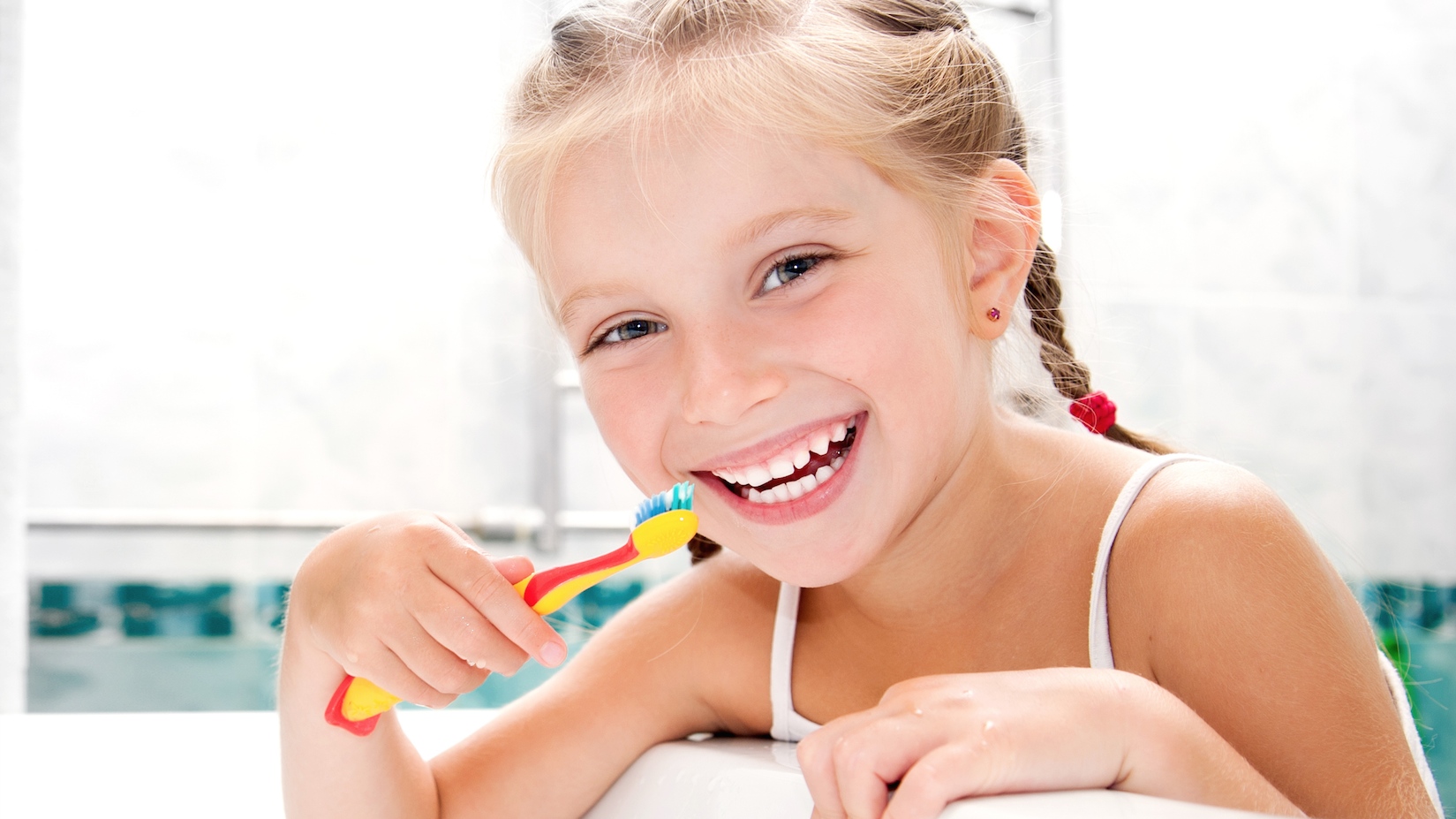 When that first baby tooth comes into place, it's time to start caring for them! Get a small soft-bristled toothbrush designed for kids and fluoride toothpaste (any flavor will do). For children under 3 years old, smear a small amount of toothpaste (about the size of a grain of rice) on the toothbrush. For children 3-6 years of age, use no more than a pea-sized amount of fluoride-toothpaste on the toothbrush, and encourage your child not to swallow the fluoridated toothpaste. Brush your child's teeth gently twice a day (morning and night). When your child is 6 or 7 years old, permanent teeth should start coming in and will continue to erupt throughout the teenage years. Have them brush twice a day for two minutes with a fluoride toothpaste and floss between their teeth. The American Dental Association has some helpful tips on proper brushing techniques. Download these tooth brushing tips and post a copy on your child's bathroom mirror as a visual reminder.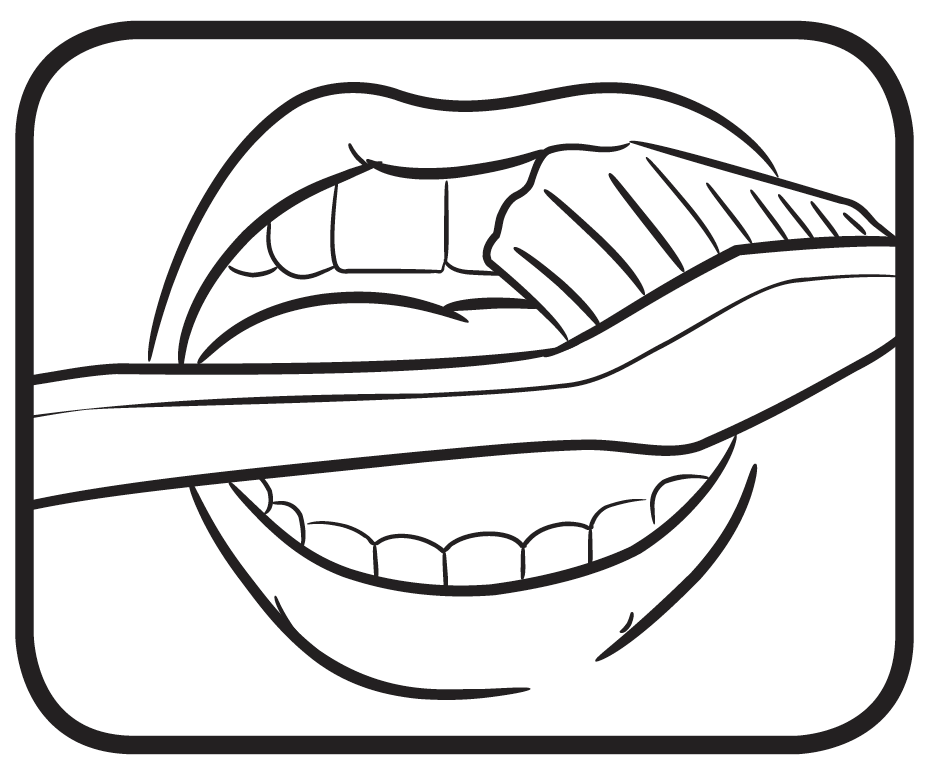 Place your toothbrush at a 45-degree angle to the gums. Gently move the brush back and forth in short (tooth-wide) strokes.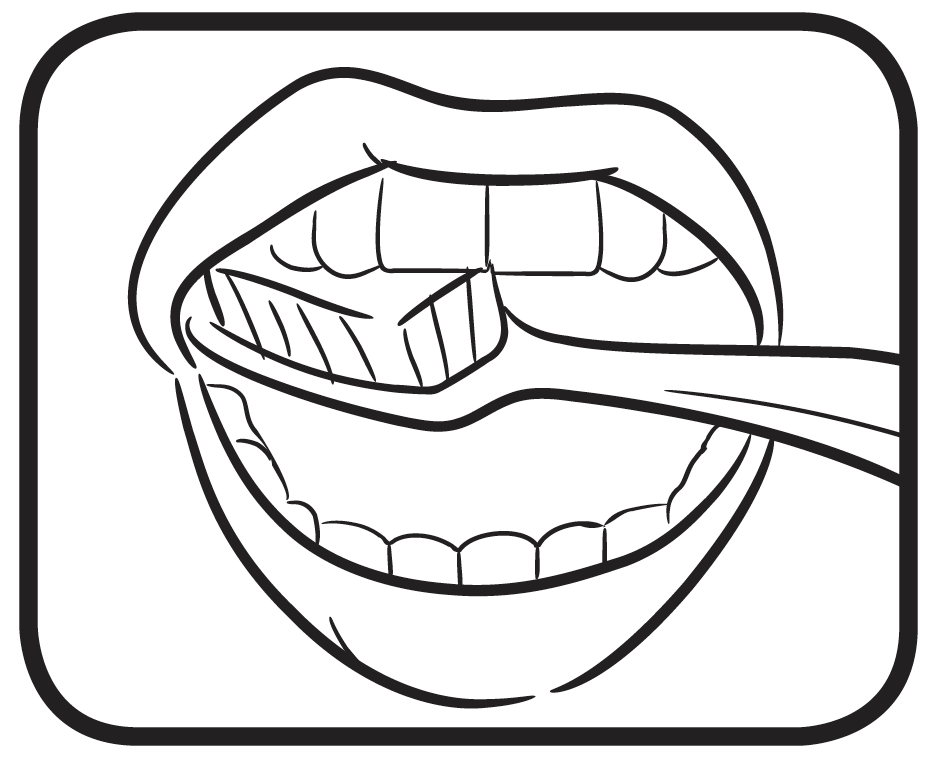 Brush the outer surfaces, the inner surfaces, and the chewing surfaces of the teeth.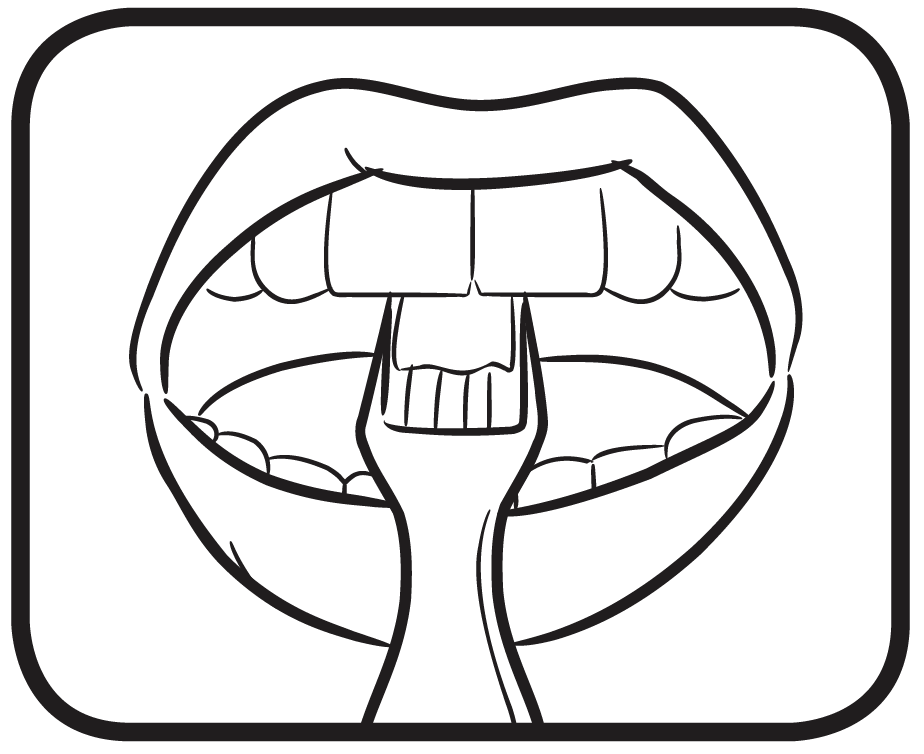 To clean the inside surfaces of the front teeth, tilt the brush vertically and make several up-and-down strokes.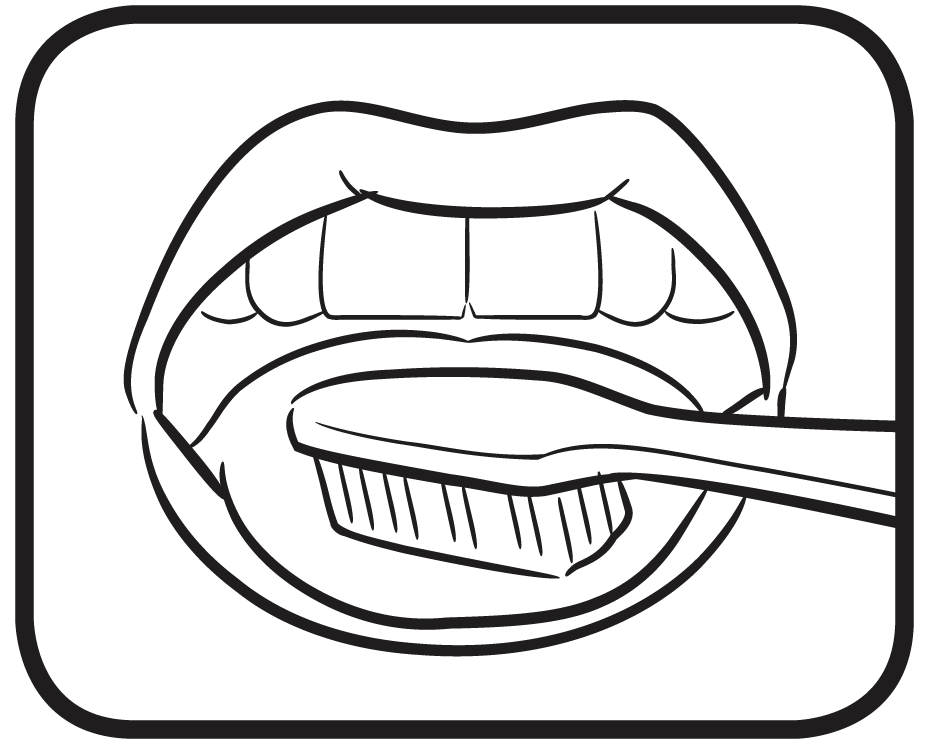 Brush your tongue to remove bacteria and keep your breath fresh.
Supervise children while they brush. A good rule of thumb, if they can't tie their shoes, they shouldn't brush their teeth alone.
The most important thing, when shopping for kid's toothpaste, is to make sure it has the ADA Seal of Acceptance on the package. This Seal is given to products that have met the American Dental Association's guidelines for safety and effectiveness. Some kid-friendly toothpastes on the ADA Kids Shopping List include:
Aquafresh for Kids Toothpaste
Benco Dental PRO-SYS Kids Fluoride Toothgel (Bubblegum Flavor)
Burt's Bees for Kids Fluoride Toothpaste
Colgate for Kids Toothpaste
Colgate Kids Maximum Cavity Protection
Crest Kids SparkleFun Cavity Protection
DTI Toothgel and Toothpaste (Bubblegum)
Hello Kid's Fluoride Toothpaste (Blue Raspberry, Bubble Gum, Wild Strawberry)
Oraline Kids Bubble Gum Flavored Fluoride Toothpaste
Oraline Kids Bubble Gum Fluoride Toothgel
Quip Watermelon Anticavity Toothpaste
Smile Central Dental Bubblegum Fluoride Toothgel
Tom's of Maine Children's Gel Fruitilicious
Tom's of Maine Natural Fluoride Toothpaste for Children (Silly Strawberry, Outrageous Orange Mango)
Tom's of Maine Natural Wicked Cool! Fluoride Toothpaste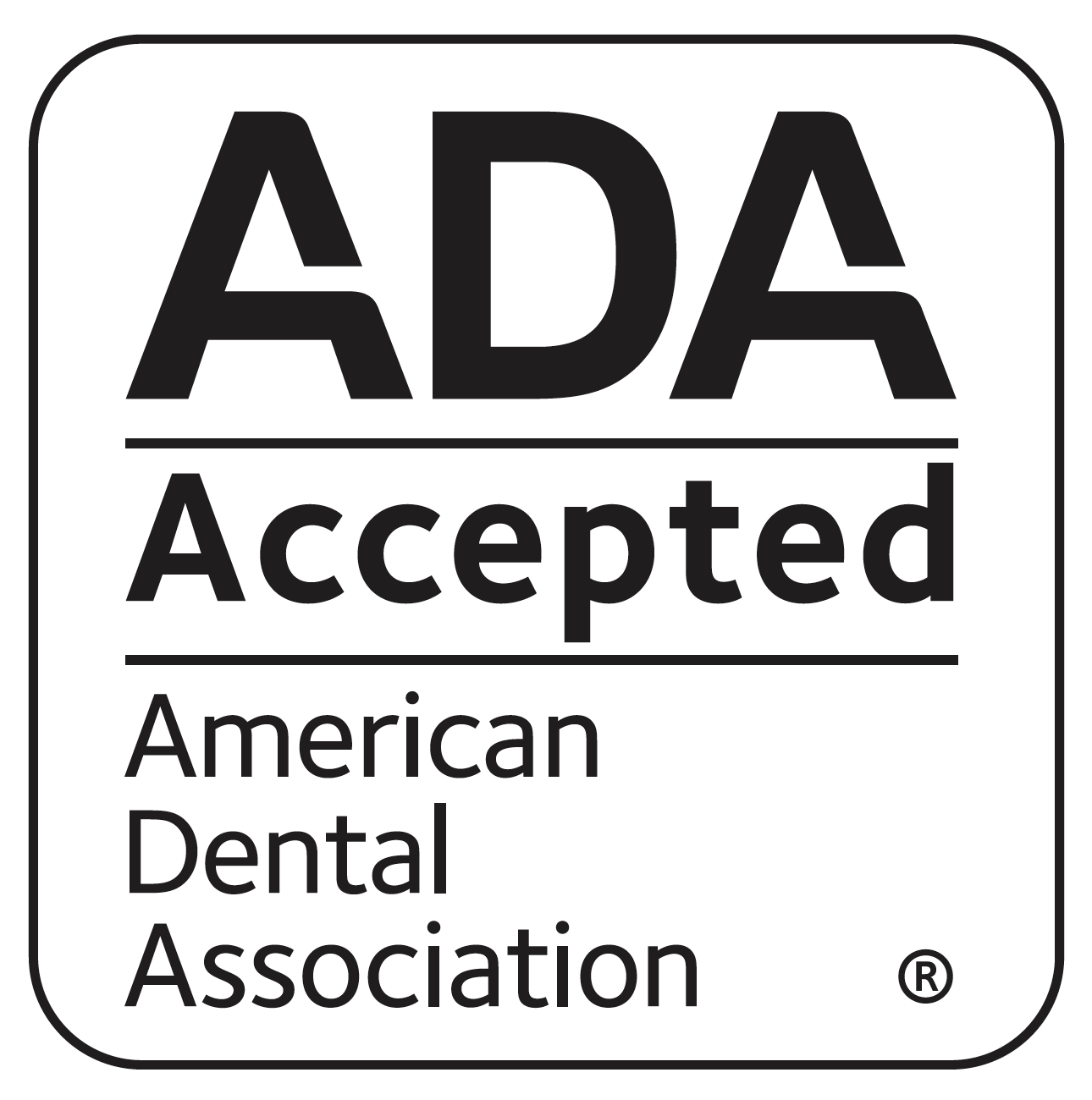 Got more questions? We're here to help!
Frisco Kid's Dentistry, along with the American Dental Association, recommends bringing your child in for their first dental visit no later than their first birthday. Why so early? This initial evaluation gives Drs. Rubin and Sentelle a chance to check for early tooth decay and discuss other habits, such as thumb sucking, that may affect the teeth as your child grows and develops. It's also the perfect time to learn how to clean your child's teeth properly. We believe a key ingredient in children maintaining good health is parental involvement! Our goal is to educate both parents and patients to create life-long, positive dental habits. Call (214) 618-5200 during our office hours and our team will be happy to answer questions, schedule an office tour, or book an appointment.