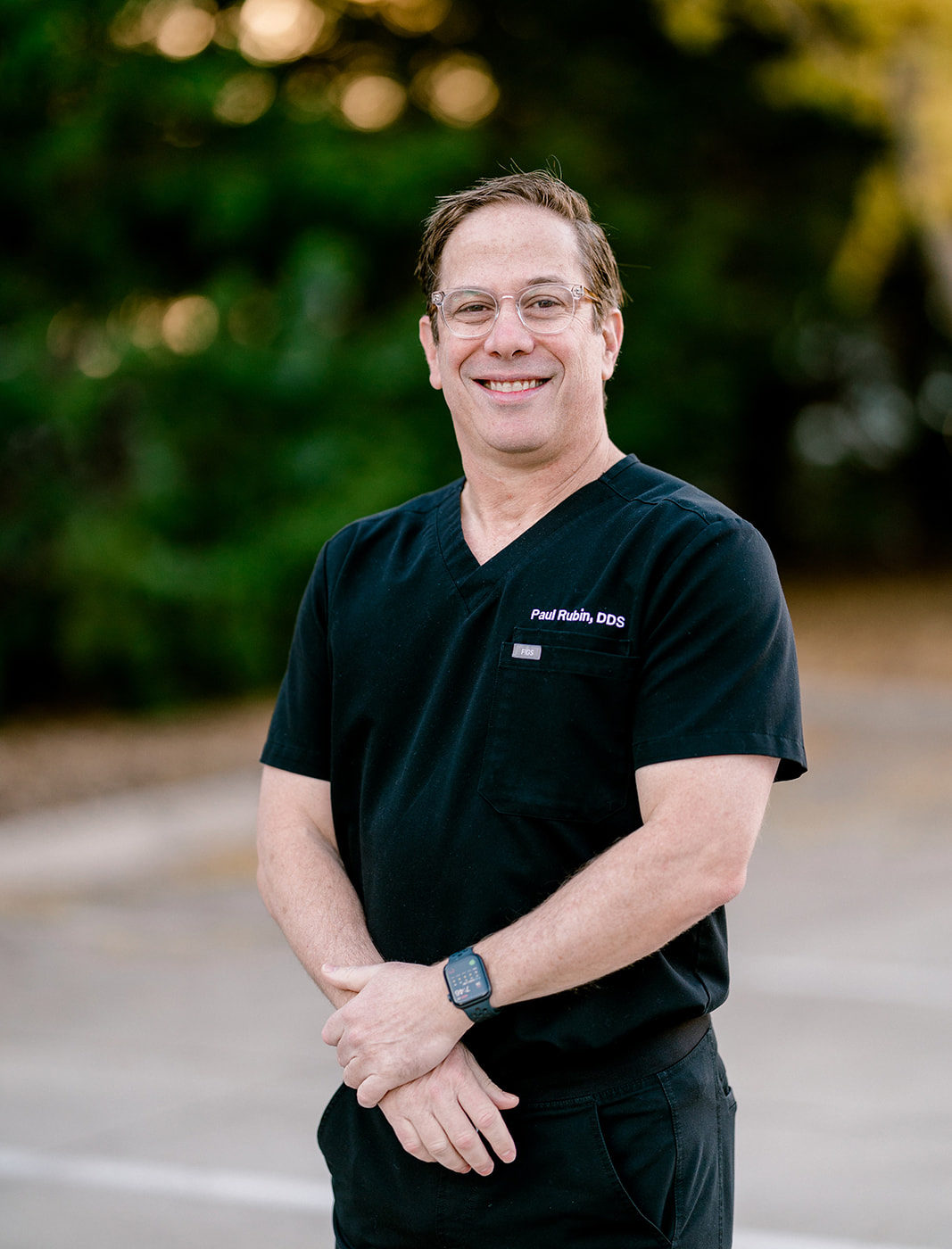 Meet Dr. Rubin
Dr. Paul I. Rubin, a board certified pediatric dentist, completed his pediatric dentistry residency and internship at Texas A&M University – Baylor College of Dentistry, and received his D.D.S from University of Texas Health Science Center in San Antonio. He entered the practice of pediatric dentistry with a combined interest in both health care and children, and has worked for many years with kids through camps and community activities. Dr. Rubin also has extensive experience in working with children who require special needs through his residency training at Baylor's Dental Clinics, Children's Medical Center and at Texas Scottish Rite Hospital for Children. In fact, the education of a pediatric dentist focuses on care for children with special needs, and the offices are designed to be physically accessible for all patients.
The field of pediatric dentistry requires specialized training of two or more years beyond dental school. Dr. Rubin has also recently completed his Board Certification in Pediatric Dentistry and is now a Diplomate of the American Board of Pediatric Dentistry. Dr. Rubin served as past president of the Texas Academy of Pediatric Dentistry. Additionally, pediatric dentists such as Dr. Paul Rubin often work with pediatricians, other physicians, and other dental specialists in order to best provide the total health care necessary for the development of a child. Dr. Rubin chose Frisco as the place to open his business as he recently moved there and wants to become involved in the community on many levels. He has a special interest in working with parents as partners in their children's dental care.
"I intend to run my practice and treat my patients in a manner in which I want my own kids to be treated," Dr. Rubin states.
Preventive/Proactive Dentistry
He has placed a tremendous focus in his practice on Preventive/Proactive Dentistry, which encompasses working with parents and increasing their "Dental IQ." Dr. Rubin wants to increase awareness and help educate parents in anticipatory guidance of pediatric dental care in areas such as oral development, fluoride adequacy, oral hygiene and health, oral habits, nutrition, diet, and injury prevention. "Parents are not always aware of the effect of nutritional issues, thumb-sucking, nail-biting and other oral habits may have on the development of teeth and gums," says Dr. Rubin.
"It is our job to provide the information and monitoring for the parents to institute appropriate habits and a track record for good dental health throughout a child's life."
Dr. Rubin has experience in hospital dentistry and in working with special needs children including work at both Children's Medical Center and Texas Scottish Rite Hospital. Hospital dentistry often entails extensive procedures including restorative and cosmetic work under general anesthesia, in an operating room environment. Special needs children have specific requirements, and Dr. Rubin has spent many hours of procedural work in hospitals and clinics with these children, working very closely with parents and the patients. He understands the need for a strong doctor/patient relationship and this partnership begins with the first visit and continues throughout the span of treatment.
Dr. Rubin is routinely selected for Texas Monthly Magazine's "Super Dentist" and D Magazine's "The Best Dentists in Dallas". Dr. Rubin is also involved in children's dentistry in other capacities on a local, regional, and statewide positions by serving as a co-founder to the Greater Dallas Pediatric Dental Society, organizing and participating in the North Dallas Dental Society's "Give Kids A Smile", serving on the Executive Board of the Texas Academy of Pediatric Dentistry and he is the President of the Texas Academy of Pediatric Dentistry.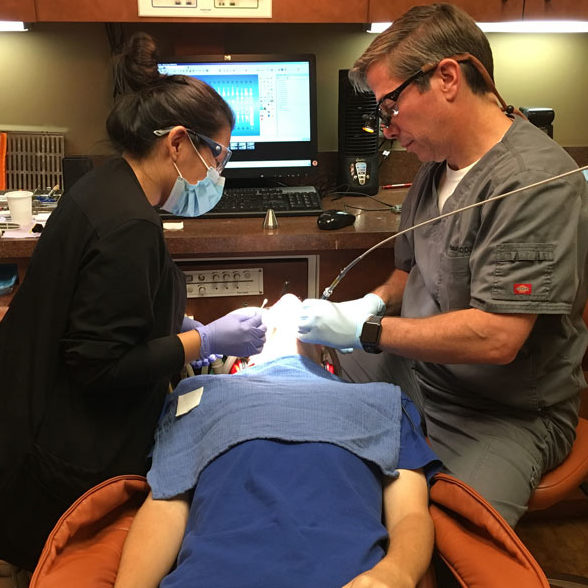 Tongue Tie and Lip Tie Laser Surgery
Dr. Paul Rubin is one of few pediatric dental surgeons in the area to acquire a laser that is capable of performing tongue tie release and lip tie release quickly, safely and effectively.
Curriculum Vitae – Paul I. Rubin, DDS
Education
Pediatric Dental Residency | Texas A&M University-Baylor College of Dentistry Pediatric Dental Residency – Certificate  7/1999-6/2001
Doctor of Dentistry – DDS | University of Texas Health Science Center at San Antonio Dental School – 8/1995-5/1999
Undergraduate Degree | Bachelor of Biology – University of Texas in Austin – 8/1990-5/1994
High School | Hallettsville High School; Hallettsville, TX – 8/1986-5/1990
Dentistry Experience
8/1/01-current | Board Certified Pediatric Dentist Paul I. Rubin, DDS, PA
7/1/01-8/01/03 | Pediatric Dentist Robert Morgan, DDS
3/5/01-3/8/01 | General Dentist limited to children John Gober, DDS
8/99-current | General dentist limited to children Barny Barnhill, DDS
10/00-11/00 | Private practice rotation through DFW pediatric dental  TAMU/BCD practices
6/8/98-7/10/98 | Selected for UTHSCSA Pediatric Dentistry Externship UTHSCSA
7/13/98-7/23/98 | Baylor College of Dentistry Pediatric Dentistry Externship volunteer
7/25/98-7/30/98 | University of Michigan Pediatric Dentistry Externship volunteer
8/10/98-8/14/98 | Children's Hospital Medical Center in Cincinatti Pediatric volunteer
Dentistry Externship
2/98-4/98 | Research Assistant to Richard Karpay DDS UTHSCSA
Professional Affiliations
1997-present | Alpha Omega International Dental Fraternity
1999-present | American Academy of Pediatric Dentists
1999-present | Southwest Society of Pediatric Dentists
1999-present | Texas Academy of Pediatric Dentists
1999-present | American Dental Association
2001-present | Texas Dental Association
2001-2003 | Dallas County Dental Society
2003-present | North Texas Dental Society
2006-present | Greater Dallas Pediatric Dental Society
Positions Held On Professional Committees and Other Involvement
2010-2012 | President of Alpha Omega Dental Fraternity, Dallas Chapter
2007-2008 | President of Texas Academy of Pediatric Dentistry
2007 | Founder and Chair of Greater Dallas Pediatric Dental Society
2007 | Chair of Dentist Recruitment of  American Dental Association/ North Texas Dental Society Give Kids A Smile Day
2006-2007 | Vice President of Texas Academy of Pediatric Dentistry
2006 | Chair of American Dental Association/ North Texas Dental Society Give Kids A Smile Day
2005 | Co-chair of American Dental Association/ North Texas Dental Society Give Kids A Smile Day
2005-2006 | Secretary/ Treasurer of Texas Academy of Pediatric Dentistry
2003-2005 | At large member of Executive Board of Texas Academy of Pediatric Dentistry
2004-2005 | North Texas Dental Society Co-chair of New Dentist Committee
2002-2004 | Program Chairman-Alpha Omega
2001 | Organized involvement of Alpha Omega in Special Olympics, Special Smiles in Dallas Community Activities
2003-present | Provided No cost dental Services to local children through Give Kids a Smile
2002-present | Host Annual Halloween "Boo-Bash" benefiting local area charities including Frisco Family Services and Samaritan Inn and Legacy Children's Medical Center.
2001-Present | Presented Interactive Dental Education "Toothfairy Program" geared to local Frisco Elementary Schools to help raise dental health awareness
2005 | Organized and Provided Dental Care to Hurricane Katrina Evacuees.
2002 | Senior Counselor for Hugh O'Brian Youth Leadership Foundation- North Dallas Seminar-organized Seminar panel discussion on Texas Homeland Security
2001 | Senior Counselor for Hugh O'Brian Youth Leadership Foundation- North Dallas Seminar
2001 | Pediatric Dental Screenings through Children's Medical Center at Northpark Healthfair
2000 | Pediatric Dental Screenings for Special Olympics, Special Smiles Pediatric Dental Screenings for JCC Family Day
Honors and Awards
2006 | Achieved status as a Diplomate of the American Academy of Pediatric Dentistry; Board Certified Pediatric Dentist
2007, 2010, 2011, 2013-present | Selected "Best Dentists in Dallas" by D Magazine
2004-present | Selected as "Texas Super Dentist" by Texas Monthly Magazine
2002 | Selected as International young alumni of the year for Alpha Omega International Dental Fraternity
1995 | Selected for UTHSCSA international Japanese Dental Exchange Delegation
1995 | Selected for UTHSCSA Pediatric Dental Externship (competitive; application req.)
1997 | Selected to participate in AHEC dental program (competitive; application req.)
1995 | Selected by Dean to represent UTHSCSA Dental School Recruitment Program
1996-97 | Selected to be a dental peer advisor (competitive; application and interview req.)
1993-94 | Inducted into Mortar Board National College Honor Society (competitive; application req.)
1993 | Nominated for Most Outstanding Student at UT Austin
1989 | Texas Boy's State, Senator
1989 | Eagle Scout Award in Boy Scouts of America