When should my teen 'graduate' from a Pediatric Dentist to a General Dentist?
Teens and Pediatric Dentistry
At Frisco Kid's Dentistry, we believe dental care doesn't stop when a child turns 13! In fact, the teenage years are a time of rapid growth and oral development, making routine dental care extremely important! Because many kids have their adult teeth by age 13, it is imperative that we monitor a teen's teeth for problems with crowding or impaction to determine if orthodontic treatment is necessary. Teens also have a habit of neglecting their teeth due to their busy schedule with school, sports, jobs and an active social calendar. Pair that with a fast-food diet and poor brushing/flossing routines, and you have a perfect recipe for more cavities and gum disease at this age. Even though they're old enough to know what to do, many teenagers still need reminders when it comes to maintaining good oral hygiene techniques!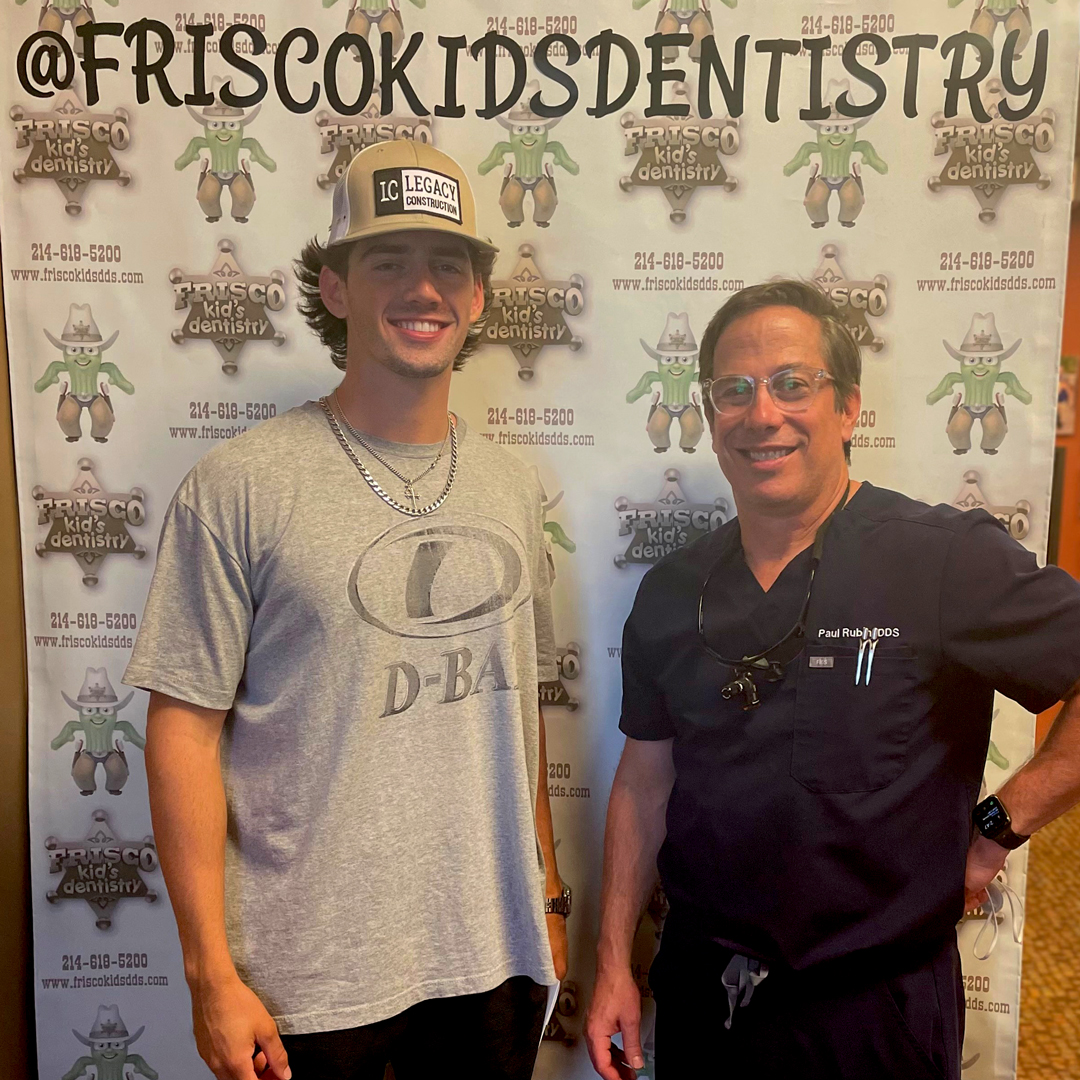 How old is "too old" to see a Pediatric Dentist?
Parents will sometimes ask, "how old is too old for my teen to still be seeing a pediatric dentist?" We believe that sticking with a pediatric dentist for as long as possible means that your teen is getting quality dental care from someone who knows their dental history inside and out! This knowledge helps with future treatment planning, especially if orthodontic treatment is needed as they continue to grow and develop. It also means they are talking about their health with someone they trust and are comfortable with. Let's admit it… it's hard for parents to adjust to a new doctor or a new doctor's office as a grown adult… imagine how intimidating that can be for teenagers! For this reason, many of our childhood patients continue seeing a pediatric dentist until they turn 18-19 years old or when they start college.
The Frisco Kid's Dentistry office caters to teens! Our office has special features to appeal specifically to our teenage patients. We have X-box 360 game consoles, an arcade, and charging stations. Our special teen rooms provide added privacy for our older patients that do not want to have their teeth cleaned in our open bay. Each room is equipped with its own monitor and Apple TV so teens can pick what they want to watch!
Our FKD Graduation Tradition
Eventually, we do have to say goodbye to our teens. As a tradition, when our teen patients 'graduate' to adult/general dentistry treatment (usually around age 18-19), we have them sign a wooden tooth to go in our special Frisco Kid's Dentistry Graduates frame. Here's a few of our 2022 Graduates!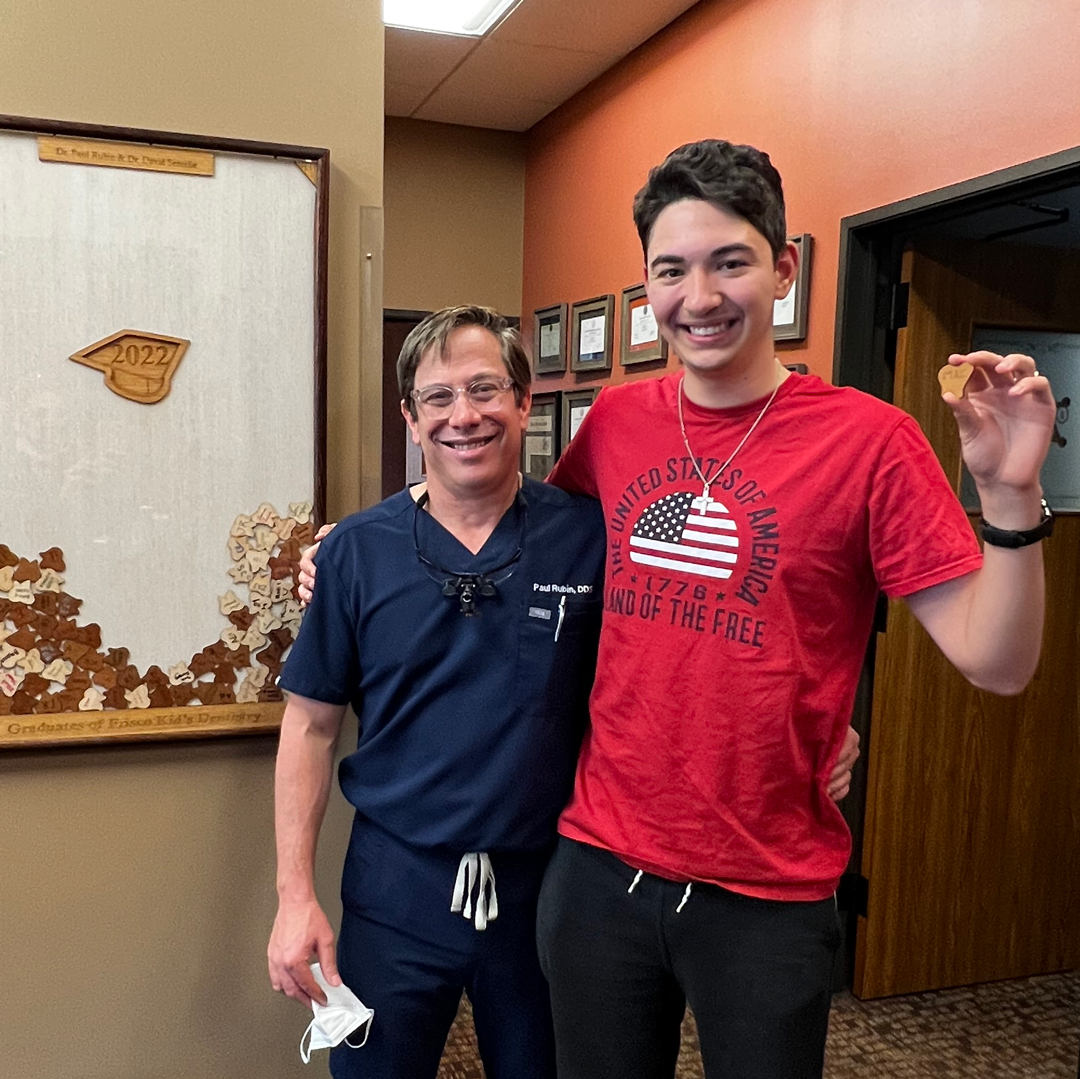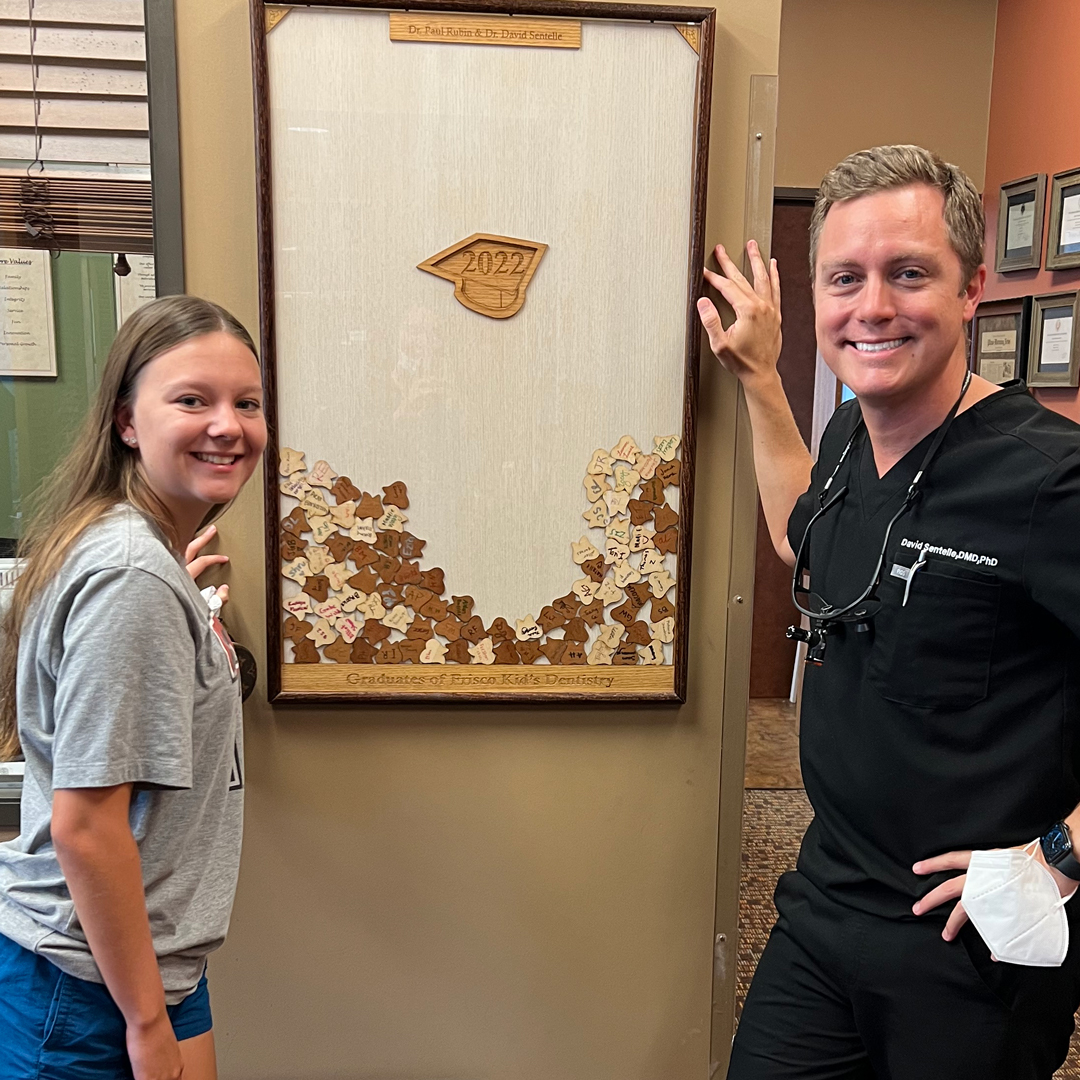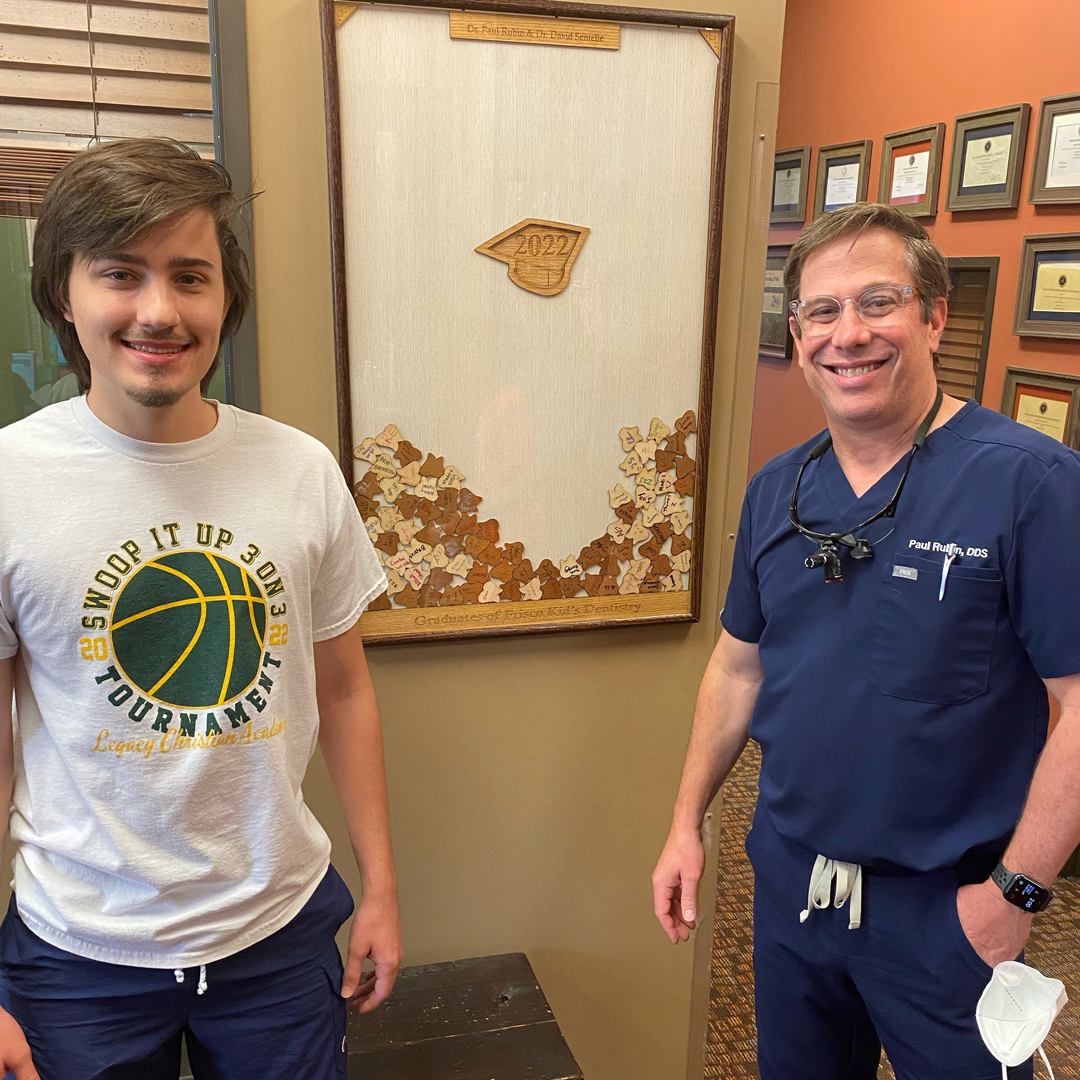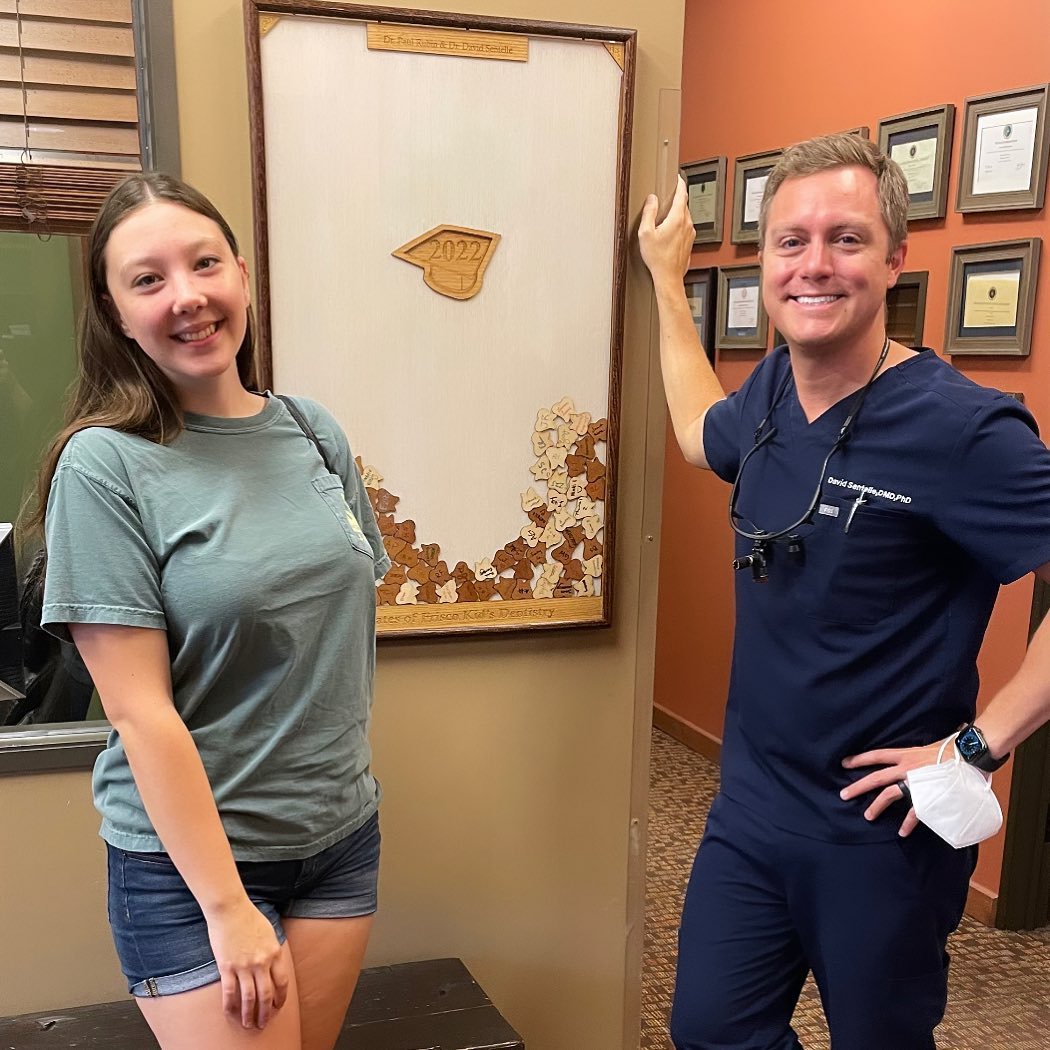 Checklist when Graduating to a General Dentist
When you or your teen decide the time is right to "graduate" to a general dentist for adult treatment, here's a few checklist items to consider:
If possible, complete any unfinished treatment you have started. Don't leave the mouth in a state of limbo where you'll have to rush find another dentist.
If your teen will be going to college away from home, do some research and get recommendations on several dentists in that area. We highly recommend calling to introduce yourself and your teen to make their initial appointment more personal.
Have conversations with your teen that although you are relinquishing the hands-on responsibility for their dental care, you welcome calls and continue to support their well-being.
To help the transition go smoothly, let us know the new dentist's contact information and we'll be happy to transfer your teen's medical records including photos, xrays, treatment history and special comments.
Time flies and teens grow up way too fast!
We absolutely love guiding teens through their middle school and high school years! We are happy to discuss and answer questions regarding your teen's diet, healthy lifestyle choices, as well as oral hygiene concerns. This school year is already in full swing, so regardless if you have an older teen or one that's quickly approaching their 13th birthday, get on our calendar and schedule their next 6 month dental checkup and cleaning appointment. We know you're busy, so we'll make it easy for you! Simply fill out an Online Appointment Request or call 214-618-5200 for an exam.