Sports and Mouthguards Use in Teenagers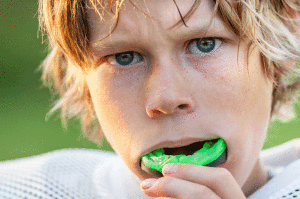 Sports and mouthguard use in teenagers is an important dental issue. Research shows that dental and orofacial (mouth, jaw, face) injuries are some of the most common types of injuries in contact sports and recreational activities. A large number of teenagers play organized sports and participate in athletic activities, and this fact puts teenagers at a higher risk for orofacial injuries. Fortunately, the use of a properly fitted mouthguard is extremely effective for reducing the incidence and the severity of sports-related dental injuries in teenagers. Studies by the American Dental Association, the American Academy of Pediatric Dentistry and the American Academy of Sports Dentistry show a significant reduction of orofacial injuries with the use of a mouthguard.
When should teenagers wear a mouthguard
Typically, mouthguards are required for football, hockey and lacrosse, but the American Dental Association recommends the use of a mouthguard for 29 different sports and activities. The use of a mouthguard should be considered for any teenage athlete participating in a sport or activity that has the potential for orofacial injury resulting from contact with either another body or a piece of equipment such as a stick, ball, bat, etc. Because many teenagers may not understand the importance of mouthguard use it is essential for coaches and parents to reinforce the advantages.
Benefits of mouthguard use in teenagers
A mouthguard protects both the teeth and the soft tissue in the mouth. By providing a protective surface that distributes and dissipates the force on an impact, a mouthguard can prevent traumatic injury to the teeth and mouth. Mouthguards protect the lips, tongue and cheeks by serving as a barrier between the teeth and the soft tissue. Mouthguards can effectively prevent the following injuries:
Chipped teeth
Broken teeth
Root damage
Bone damage
Tooth loss
Jaw fractures
Damage to orthodontic appliances and dental work
Cutting of the lips, tongue or cheeks
Qualities of a well fitting mouthguard for teenage athletes
To maximize the benefits of a mouthguard, it is important that it is well fabricated and fits the teenager properly.  Teens are far more likely to wear the protective device if it has the following qualities:
Does not limit breathing
Allows for speaking
Is comfortable
Durable
Odorless and tasteless
Easy to clean and care for
Types of mouthguards for teenagers
Pre-formed (stock) mouthguards: These mouthguards can be purchased at a sporting good store or a drug store. They are less expensive than other types of mouthguards and purchase is easy and hassle free. Unfortunately, stock mouthguards tend to be bulky and uncomfortable. They can make breathing and speaking more difficult, and they require the jaw to be closed to keep the protective device in place.
Mouth formed mouthguards: These mouthguards are a step up in quality and fit from stock mouth guards. These mouthguards can be found at most sporting good stores and typically come in two types. One is a shell liner with an acrylic gel or rubber that molds to the teeth and sets. The other type is known as a boil-and-bite mouthguard. These are made of thermoplastic that becomes soft when boiled. The mouthguard is then molded by biting and manipulating the plastic against the teeth to create a comfortable fit. These are typically a better option because of the improved fit, but they can still feel bulky to many teenage athletes.
Custom-fitted mouthguards: Custom-fitted mouth guards provide the best fit, comfort and protection. These mouthguards are more expensive than stock or mouth formed mouthguards, but they are the recommended choice by dentists. Custom-fitted mouthguards do have to be purchased though a dentist because of the fitting process. A dentist first makes an impression of the teeth, and then a lab technician uses the impression as a mold to create a custom-fitted mouthguard. These mouthguards can also be customized based on the sport and the type of risks involved.
If you're interested in ordering a custom mouthguard, contact our office by Online Appointment Request or call 214 618 5200.